Symvoulakis Emmanouil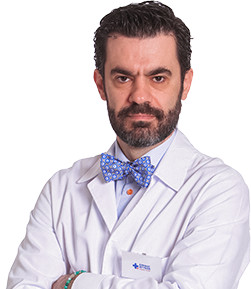 2nd Clinic of Gastroenterology
Experience
Head, 2nd department of gastroenterology ENHC 2015-
Vice-president Hellenic Professional Union of gastroenterologists 2013-2016
Scientific Director Evgenideion Hospital 2008-2011
Scientific Consultant Gastroenterology Clinic of Evangellismos Hospital 2008-2010
Scientific Consultant Evgenideion Hospital 2006-2008
Speciality
Training in Gastroenterology from Evangellismos Hospital 2002-2006
Medical degree from Medical School of University of Crete 1995
Recognitions & Awards
Fellow, European Board of Gastroenterology and Hepatology 2017
Scholarship from Vardinogiannion Foundation 1990-1991
Scholarship from IKY (Hopital Civil, Strasbourg 1992-1993)
Publications
Spontaneous spondylodiscitis by Klebsiella Pneumoniae Kouroussis C, Georgoulias V, Souglakos J, Simvoulakis E, Karabekios G, Samonis G Infection 1999 Nov-Dec;27(6)386-9
Idiopathic colonic varices; a case report and review of the literature Simvoulakis E, Viazis N, Pipis P, Stefanidis G, Avgerinos A Acta Gastroenterologica Belgica Nov 2005 25(3):289
Factors predicting failure of percutaneous endoscopic gastrostomy to control gastroesophageal reflux in mechanically ventilated patients E.Simvoulakis, A.Tsapalos, K.Tsatali, D.Tiniakou, A.Dimitrakopoulos, E.E. Douzinas Gut Suppl 2005 No VII Vol 54;A95
Peripheral lymphocyte subsets alterations and surface activation markers in irritable bowel syndrome A.Tsatali, O.Livaditi, M.Symvoulakis, E.E.Douzinas Gut Suppl 2006 No V Vol 55;A289
The role of circulating microRNAs as novel biomarkers in diagnosing colorectal cancer: a meta-analysis. Rokkas T1, Kothonas F, Rokka A, Koukoulis G, Symvoulakis E. Eur J Gastroenterol Hepatol. 2015 Jul;27(7):819-25.