Stenos Lucas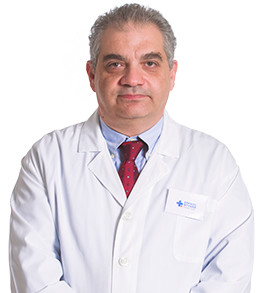 1st Department of Urology
Experience
Consultant A, 1st Urological Department Henry Dunant Hospital Center (2011 till today)
Consultant B, 1st Urological Department Henry Dunant Hospital Center (2001-2011)
Resident, Urological Department General Hospital :ELPIS"(1996-2000)
Rural Service, Regional Medical Center St. George, Livadeia (1995-1996)
Internal Assistant, 1st Surgical Department 401 General Military Hospital of Athens (1994-1995)
Speciality
Training Program; Telematics and its application (2000)
Specialty :Urology, General Hospital "ELPIS"(1996-2000)
Training Program:Methods of laparoscopic tissue suturing (Hellenic Red Cross Hospital(1998)
Training program: Cardiorespiratory ressuscitation in basic and specialized life support (Aretaieion Hospital, 1998)
Graduate Medical School University of Patras(1993)
SPECIALISATION AND RESEARCH INTEREST:
Lithiasis of the urinary tract system
Urological Oncology
Andrology-Infertility
Benign Prostatic Hyperplasia
Retraining
Fellow of the European Board of Urology (FEBU) following european exams(2006-2007)
Ongoing Thesis on studying markers UBC and CYFRA 21-1 in blood and urine of patients with bladder cancer
Publications
More than 45 publications and presentations in greek and foreign texts and conferences:
Primary malignant lymphoma of the Kidney with contra lateral retroperitoneal fibrosis (Hellenic Urology, 1992)
Ureteral obstruction following aortofemoral or aortoiliac by pass(Hellelic Urology, 1996)
Malignant Mesenchy moma of the Kidney (Hellenic Urology, 1997)
Ileal bladder Ruptrue because of lithiasis (Hellenic Urology)
Sizable aimoragic cyst of the left adreral mimicing haematoma of the spleen(Hellenic Urology, 1998)
Conservative Urine Cytology vs THIN-PREAP method in the diagnosis of bladder cancer.Stenos Loukas et al. European CONFERENCE,MANCHESTER, 2002)
TATI and cytoceratins(UBC and cyfra 21-1) in the diagnosis of bladder transitional cell carcinoma, L.Iordanidou, L.Stenos et al, European Conference of Nuclear Medicine, 2002.
Translation and revision of books:
Urinary tract infections and fluoroquirolones-Clinician;s Manual K.G Naber et al, Vagionakis publications, 2002
Benign Prostatic Hyperplasia. 5th edition, R.S. Kirby et al, Vagionakis publications 2009.