Mantonakis Eleftherios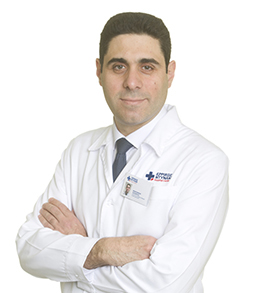 Experience
Consultant General Surgeon – 2nd Department of Surgery – Henry Dunant Hospital Center (2016-Today)
Consultant General and Colorectal Surgeon– Service de Chirurgie Colorectale - Hôpital Beaujon - Hôpitaux Universitaires Paris Nord Val de Seine, France (2014-2015)
Associate General Surgeon – Athens Medical Center 2014
General Surgeon – 1st Department of Surgery – University of Athens – "Laiko" General Hospital (2013-2014)
Speciality
Specialization in Bariatric and Metabolic Surgery - Service de Chirurgie Digestif General et Oncologique - Hopital Europeen Georges-Pompidou - Hopitaux Universitaires Paris Ouest, France 2015.
Resident General Surgeon – 1st Department of Surgery – University of Athens – "Laiko" General Hospital (2007-2013).
Medical Doctor Graduate, Athens Medical School, National and Kapodistrian University of Athens 2014.
Retraining
Doctor of Philosophy PhDc, Athens Medical School, National and Kapodistrian University of Athens
MSc in "Biliary, Hepatic and Pancreatic Surgery", Democritus University of Thrace
Publications
Selected international publications:
Mantonakis E, Papalampros A, Moris D, Dimitrokallis N, Sakarellos P, Griniatsos J, Felekouras E.
Radiofrequency Energy in Hepatic Bed during Partial Cystectomy for Hydatid Liver Disease: Standing Out from the Usual Conservative Surgical Management. Gastroenterol Res Pract. 2016;2016:1078653. doi: 10.1155/2016/1078653. Epub 2016 Jul 21. PubMed PMID: 27525000; PubMed Central PMCID: PMC4972915.
Alexandrou A, Mantonakis E, Pikoulis E, Margariti T, Dimitrokallis N, Diamantis T.
Robotic sleeve gastrectomy for morbid obesity: report of a 5 year experience. Int J Med Robot. 2016 Jun;12(2):283-7. doi: 10.1002/rcs.1662. Epub 2015 Jun 12. PubMed PMID: 26097182.
Moris D, Mantonakis E, Makris M, Michalinos A, Vernadakis S.
Hoarseness after thyroidectomy: blame the endocrine surgeon alone? Hormones (Athens). 2014 Jan-Mar;13(1):5-15. Review. PubMed PMID: 24722123.
Moris DN, Bramis KJ, Mantonakis EI, Papalampros EL, Petrou AS, Papalampros AE.
Surgery via natural orifices in human beings: yesterday, today, tomorrow. Am J Surg. 2012 Jul;204(1):93-102. doi: 10.1016/j.amjsurg.2011.05.019. Epub 2011 Dec 28. Review. PubMed PMID: 22206853.