Henry Dunant Hospital Center earned the prestigious Joint Commission International accreditation, which demonstrates its full compliance with its internationally recognized standards for health services. The Gold Seal of Approval® is a symbol of quality that reflects the organization's commitment to provide the safest and most effective treatment to patients, and ranks Henry Dunant Hospital Center among the 600 accredited hospitals worldwide.
During the rigorous on-site survey, a team of Joint Commission International expert surveyors (physicians, nurses and administrative) evaluated Henry Dunant Hospital Center's compliance with hospital standards related to a variety of areas, including the International Patient Safety Goals, patient assessment and care, anesthesia and surgical care, medication management, quality improvement, infection prevention and control, governance and leadership, facility management, staff qualifications and education, and information management. Henry Dunant Hospital Center is included in the elite category of health care organizations that have received JCI accreditation worldwide.
Joint Commission International's hospital standards are developed by health care experts and providers, with the aim of continually improving quality and increasing safety for patients and their families, through the minimization of risks. The standards incorporate the adoption of good international practices, medical protocols and guidelines, and expert consensus to help organizations measure, assess and improve performance.
JCI accreditation demonstrates to all patients and their families, visitors and staff, that Henry Dunant Hospital Center is committed to constantly improve quality and safety, based on internationally recognized standards that view the patient as the absolute priority.
Mr. Themos Charamis, President and CEO of Henry Dunant Hospital Center, declared concerning the international accreditation: "After more than two years of rigorous preparation, Henry Dunant Hospital Center belongs to the elite group of only 600 hospitals worldwide that have received the JCI Gold Seal of Approval®. We are proud to be rewarded, as this is the strongest and most valid hospital accreditation worldwide, but is also a tangible recognition of a team effort that leads Henry Dunant Hospital Center into a new era".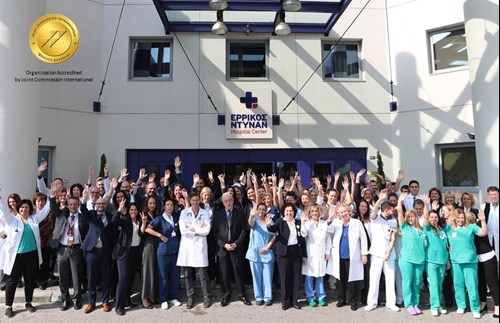 ----------------------------------
Joint Commission International
Joint Commission International (JCI) was established in 1997 as a division of Joint Commission Resources, Inc. (JCR), a wholly controlled, not-for-profit affiliate of The Joint Commission. Through international accreditation, consultation, publications and education programs, JCI extends The Joint Commission's mission worldwide by helping to improve the quality of patient care.  JCI assists international health care organizations, public health agencies, health ministries and others in more than 100 countries.