Pektasides Dimitrios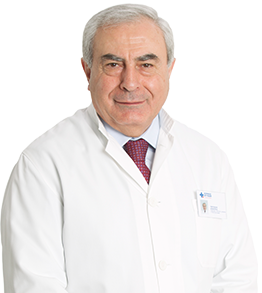 Experience
Director of the 3rd Oncology Department at Henry Dynant Hospital Center, (2017 to date)
Director of the 2nd University Clinic General Hospital of Athens Ippokrateio (2010-2016)
Member of the University of Athens at the following levels: Assistant Professor (2002-2008) Professor (2008-2016)
Metaxa Hospital through all levels of NHS (Curator, Deputy Director, Director (1979-2002)
Speciality
Acquisition of Pathology-Oncology Specialty (1998)
Acquisition of Pathology Specialty (1981)
Degree in Medical School of the University of Athens (1974)
Specialty: Breast cancer - Gynecological cancer - Uro-epidermal cancer - Gastrointestinal cancer - Merkel's lung cancer
Research Interest: Research activity begins with 2-year education in the UK (Royal Marsden, Charring Cross, Hammersmith), specializing in melanoma, gynecological cancer, trophoblastic disease, tumors of ovarian cancer cells - testicular-ovarian , urogenital cancer, the labeling and therapeutic application of monoclonal antibodies.
Retraining
Specialty Title of Pathology Oncology (1998)
Obtaining a Copenhagen exam, European Certification for Medical Oncology (1990)
Doctor of the University of Athens (1978)
Further training in England
Recognitions & Awards
Scholarship From the third to sixth year of medical school, due to the excellent performance
NATO scholarship 2 years for postgraduate studies in London
9 awards - Distinctions of oral publications or publications in Greek and international conferences
Member of 6 International and 17 Hellenic Scientific Societies
Member of the Editorial Committee of 3 foreign scientific journals, member of editorial board of 26 scientific journals (4 Greek and 22 foreign languages).
Vice President of the Hellenic Cooperative Oncology Group
Member of the Board of Directors of the Hellenic Research Center for Cancer
Chairman of seven-year examinations for the specialization of pathological oncology
Member of the HCDCP Committee for the Recording of Cases of Cancer in Greece( REGISTRY)
Member of CMC Oncology Committee (Ministry of Health)
Publications
325 publications in International Medical journals according to ISI and 372 according to GOOGLE SCHOLAR
54 publications in Greek Medical Journals
180 announcements at international conferences
200 announcements in Greek Conferences
The scientific work is reported 4526 times in the international literature (Citations) according to ISI and 7575 according to GOOGLE SCHOLAR, the Total Impact Factor is 1202.7, the average is 4.340 and the H index is 49
Participation as PI in> 20 international multicentre studies
Author of 2 books on Oncology - Gynecological Oncology, 2nd Edition, Urological Oncology and Curator of the Pathology Book for Students of the University of Athens.