Passou Elpida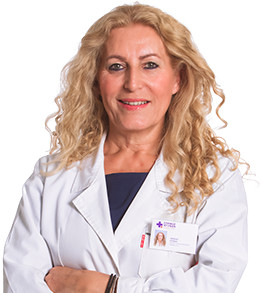 Neurology and Audiology Clinic – Department of Otolaryngology
Experience
Current Position Director of the Audiology & Neurotology Dept. at Henry Dunant Hospital Center (2005-today)
Consultant of Audiology &Neurotology Dept. at Hellenic Red Cross Hospital "Korgialenion – Mpenakion" (1999-2005)
Consultant of the ENT Dept. at Medical Centre of Athens (1998)
Speciality
Specialty training in ENT at "Penteli Children's Hospital" and at Hellenic Red Cross Hospital "Korgialenion – Mpenakion" (1993-1997)
Patient's Examination, Diagnosis and Treatment against:
Acute and chronic hearing disorders (hearing impairment, deafness, tinnitus)
Balance disorders and space orientation (vertigo, dizziness, unsteadiness)
Migraine
Clinical and laboratory tests are made, followed by treatment, including special handling (Hallpike maneuvering), medication, fitting of devices (hearing aids, tinnitus masker – TRT) and intratympanic injections.
Operational; approaches are made in close collaboration with the ENT Dept.
Retraining
Specialized in preoperative cochlear implant evaluation and postoperative fittings and adjustment.
Post specialty training in Neurotology at University College London Hospital (Prof. Luxon) i
MA in Public Administration of Health Services
Recognitions & Awards
Hellenic Society of Otorhinolaryngology (Full member 1997)
Hellenic Society of Audiology – Neurotology
Panhellenic Society of Otorhinolaryngology – Head and Neck Surgery (Full member 1997)
Hellenic Society of Otorhinolaryngological Allergology and Immunology (Full member 1997)
International Association of Audiology and Neurotology
Mediterranean Society of Audiology and Neurotology
Publications
Dr. Passou has over 40 publications in National and International Congresses as well as in medical journals.
In conclusion, she has participated in a significant number of medical congresses and seminars as speaker or contributor for further education of young doctors and also members of the staff of Henry Dunant Hospital Center.