Danou Fotini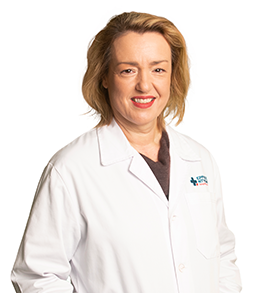 Department of Anesthesiology
Experience
Associate Medical Director, Henry Dunant Hospital Center, (2018 – today)
Director, Department of Anaesthesia, Henry Dunant Hospital Center (2016 – today)
Consultant Anaesthesiologist, Henry Dunant Hospital Center, Hygeia, Mitera, Iatriko Kentro, Iaso General (2011 – 2016)
Staff Anaesthesiologist, Henry Dunant Hospital Center (2000 – 2011)
Locum Anaesthesiologist, Onassis Cardiac Center (2000)
Clinical Fellow, Cardiothoracic Anaesthesia Royal Brompton Hospital London UK (1999 – 2000)
Speciality
Transesophageal Echocardiography, Bergamo 2004 and San Diego (2006)
Ultrasound Guided Peripheral Nerve Blocks, Alexandroupolis 2011 and London 2018
Anaesthesia Residency Training, "St Savvas" Hospital Athens (1994 – 1999)
Medical Degree, National Kapodistrian University of Athens (1994)
Intern - Internal Medicine, "Mayo Clinic" Rochester Minessota USA (1993)
Intern – Surgery, "Methodist Hospital" Houston Texas USA (1993)
Recognitions & Awards
Medical Thesis (MD) - University of Athens Medical School (2000)
Diplomate of the European Academy of Anaesthesiology (DEEA) (2000)
Member of the Committee for Education in Anaesthesiology of the Central Health Council (KESY) of the Ministry of Health (2017 - today)
Vice President of the Hellenic Society of Anaesthesiology (2017 – today)
Member of the Board of the Hellenic Society of Anaesthesiology (2004 – 2008)
President of the Athens Committee for the European Society of Anaesthesiology Continuing Education Program (CEEA) (2008 – today)
Member of the Board of the Hellenic Society of Cardiopulmonary Resuscitation (2003 – 2007) and (2011 – 2015)
Member of the National Committee on Resuscitation of the Central Health Council (KESY) of the Ministry of Health (2005 - 2009)
Course Director in European Pediatric Advanced Life Support Courses for the European Resuscitation Council (ERC) (2003 – 2015)
Instructor in Advanced Life Support Courses for the European Resuscitation Council (ERC) (2016 – today)
Trainer in Clinical Simulation in Anaesthesia (2017 – today)
Member of the Scientific Committee for the national guidelines on preoperative assessment and preparation of the surgical patient (2016)
Member of the Scientific Committee for the 21st , 22rd and 23rd National Congress of the Hellenic Society of Anaesthesiology (2015, 2017, 2019)
General Secretary of the Organizing Committee for the 18th National Congress of the Hellenic Society of Anaesthesiology (2009)
Member of the Organizing Committee for the 20th National Congress of the Hellenic Society of Anaesthesiology (2013)
Publications
Co-Author of the Manuals of Pediatric Advanced Life Support and Pediatric Immediate Life Support, editions 2006,2011, 2015 for the European Resuscitation Council as well as editor of the Greek translation of the above manuals.
Theoretical knowledge and skill retention 4 months after a European Paediatric Life Support course.
Charalampopoulos D, Karlis G, Barouxis D, Syggelou A, Mikalli C, Kountouris D, Modestou N, Van de Voorde P, Danou F, Iacovidou N, Xanthos T.
Eur J Emerg Med. 2016;23:56-60.
Female risk using OPCAB, pi-circuit, and aorta no-touch coronary revascularization.
Prapas SN, Panagiotopoulos IA, Ayyad MA, Kotsis VN, Protogeros DA, Linardakis IN, Tzanavaras TP, Danou F.
Heart Surg Forum. 2009 Dec;12(6):E344-8. doi: 10.1532/HSF98.20091124.
Effective combined off-pump surgical treatment and autologous bone marrow cell transplantation: a new alternative for patients with end-stage ischemic cardiomyopathy.
Prapas S, Protogeros D, Danou F, Trikka C, Panagiotopoulos I, Chandrinou H.
Anadolu Kardiyol Derg. 2008 Nov;8 Suppl 2:101-7.
Levosimendan: a decade of experience in Europe built on years of evidence.
Parissis J, Toller W, Franco F, Delgado JF, Danou F, Soriano PL. Karpati PCJ, Nieminen, MS, Mebazaa A, Follath, F.
Eur J Heart Fail Suppl 7. No 2. 2008;234-243.
Predictors of prolonged mechanical ventilation following aorta no-touch off-pump coronary artery bypass surgery.
Prapas SN, Panagiotopoulos IA, Hamed Abdelsalam A, Kotsis VN, Protogeros DA, Linardakis IN, Danou FN.
Eur J Cardiothorac Surg. 2007 Sep;32(3):488-92. Epub 2007 Jul 24.
External reshaping of the left ventricle in off-pump surgery.
Prapas SN, Protogeros DA, Kotsis VN, Panagiotopoulos IA, Raptis IP, Danou FN, Linardakis IN, Karatza DC, Anagnostopoulos CE.
Innovations (Phila). 2006 Summer;1(4):155-9. doi: 10.1097/01.IMI.0000220943.58491.df.
Paraquat poisoning in a family.
Kalabalikis P, Hatzis T, Papadatos J, Gionis D, Danou F, Vlachos P.
Vet Hum Toxicol. 2001 Feb;43(1):31-3.
The analgesic efficacy of intravenous tenoxicam as an adjunct to patient-controlled analgesia in total abdominal hysterectomy.
Danou F, Paraskeva A, Vassilakopoulos T, Fassoulaki A.
Anesth Analg. 2000 Mar;90(3):672-6.
Effects of pulsatile delivery of basal growth hormone on lipolysis in humans.
Cersosimo E, Danou F, Persson M, Miles JM.
Am J Physiol. 1996 Jul;271(1 Pt 1):E123-6.