Georgiades Efstratios
Director of Imaging Laboratories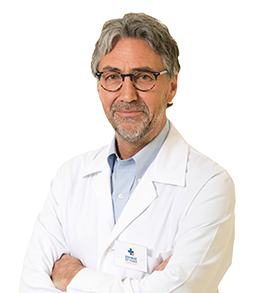 Department of Medical Imaging & Interventional Radiology
Experience
Head, Department of Radiology, Henry Dunant Hospital Center, Athens, Greece 2018-present
Head, Department of Radiology, "Igias Melathron" Hospital, Athens, Greece 2005-2017
Chief Section of CT and MR Imaging, Affidea Group Diagnostic Center, Psichico, Athens, Greece 2012-2017
Consultant in section of CT and MR Imaging, Affidea Group Diagnostic Center, Piraeus, Greece 2008-2012
Chief section of CT and MR Imaging, "Diagnostiki Therapeftiki" Center, Athens, Greece 2001-2008
Consultant in cross sectional Radiology, Sixth IKA Hospital, Athens, Greece 1997-2003
Chief sections of Classic Radiology, Ultrasound Imaging, Breast Imaging and Bone Densitometry, Euromedica Group, Athens, Greece 1991-2012
Ηe is interested in CT Colonography, Coronary CTA, CTA and MRA ,CT and MR Enterography , Breast MRI and MRI of the Prostate
Speciality
Residency in Radiology, Evangelismos General Hospital, Athens, Greece 1986-1991 
Graduated from Aristotle University of Thessaloniki in 20.07.1983
Retraining
Successful completion of the entire core curriculum in Magnetic Resonance Imaging (EMRI ERASMUS COURSES) 1991-1994
Publications
He has participated in a large number of both Greek, European and American congresses and has two publications in the following foreign journals: 
Bildgebende Verfalieren bei unklarer Raumforderung der Milz, ULTRASCALL in Klinik und Praxis, Band 7, lieft 3, 224 (92).
Myasthenia gravis. A potential cause of false positively elevated troponin. Case report and brief review. International Journal of Cardiology.