Dimitrakopoulos Antonios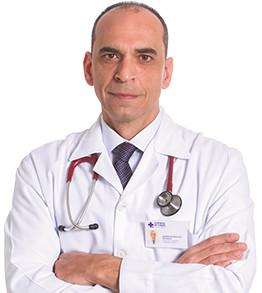 3rd Clinic of Internal Medicine
Experience
Director, 3rd Internal Medicine Department, Henry Dunant Hospital Center
Consultant, Eginition University Hospital (2001 to date): In charge of the diagnosis and treatment of internal medicine-related diseases at the Neurology and Psychiatrics Departments, University of Athens
Director, Internal Medicine Department, Evgenidion Hospital
Staff Physician, Hematology Department, Athens Medical Center (1998-1999)
Staff Physician at the ER: Infectious diseases and AIDS division, hematology, rheumatology of the Department of Pathophysiology, University of Athens (1994-1997)
Speciality
PhD Thesis: Epidemiological, clinical and immunological characteristics of the HIV infection in Greek patients. Department of Patholophysiology, Medical School, University of Athens (2003)
Internal Medicine certification, District of Piraeus (1998)
Internal Medicine Residency, Department of Pathophysiology, Laiko Hospital, University of Athens (1994-1997)
Internal Medicine Residency, 1st Internal Medicine Department at the Naval Hospital of Athens (1992-1994)
Medical School, University of Athens (1990)
Retraining
Ειδίκευση στην Παθολογία, Α΄ Παθολογική Κλινική Ναυτικού Νοσοκομείου Αθηνών (1992-1994)
Ειδίκευση στην Παθολογία, Κλινική Παθολογικής Φυσιολογίας Πανεπιστημίου Αθηνών, Γ.Ν.Α. Λαϊκό (1994-1997)
Τίτλος Ειδικότητας Παθολογίας, Νομαρχία Πειραιώς (1998)
Διδακτορική Διατριβή: Επιδημιολογικά, κλινικά και ανοσολογικά χαρακτηριστικά της HIV λοίμωξης στους Έλληνες ασθενείς. Κλινική και Εργαστήριο Παθολογικής Φυσιολογίας, Ιατρική Σχολή Πανεπιστημίου Αθηνών (2003)
Recognitions & Awards
Commendation from the AIDS Research Group of Greece, at the 8th all-greek AIDS convention, for the paper "Survival of AIDS patients in an academic department during the years 1986-1996" (Α. Dimitrakopoulos, V. Kalapothaki, Ο. Kosmopoulou, Th. Foukaneli, S. Paikou, Κ. Aroni, Ch. Papalamprou, S. Tsourakaki, Ε. Choremi, Ε. Kavoukli, Ν. Vougiouka, Th. Kordosi)
Award from the National University of Athens for the 3rd best paper of all University Schools for the year 1998-1999 for the paper Mixed cryoglobulinemia in HIV-1 infection: The role of HIV-1 (Α. Dimitrakopoulos, Th. Kordosis, Α. Chatzaki, Ch. Moutsopoulos)
Member of:
Athens Medical Association
Greek Internal Medicine Association
American Association for the Advancement of Science
New York Academy of Sciences
Publications
More than 40 papers published on scientific journals with a total impact factor of 143,45, more than 1200 citations, h-index 17. Co-author in many university books for medical students.Most important publications:
Dimitrakopoulos AN, Kordossis T, Hatzakis A, Moutsopoulos HM. Mixed cryoglobulinemia in HIV-1 infection: The role of HIV-1. Annals of Internal Medicine, 1999;130:226-230.
Dimitrakopoulos A, Takou A, Haida A, Molangeli S, Gialeraki A, Kordossis T. The prevalence of hepatitis B and C in HIV-1- positive Greek patients: relationship to survival of deceased AIDS patients. Journal of Infection 2000;40(2):127-31.
Dimitrakopoulos A, Kosmopoulou O, Foukaneli T, Papalambrou C, Kalapothaki V, Kordossis T. Survival of AIDS patients in an academic unit in Athens-Greece. AIDS, 1997;(11):828-829.
Kosmas C, Tsavaris N, Koutras A, Makatsoris T, Mylonakis N, Tzelepis G, Dimitrakopoulos A, et all. A phase II study of the docetaxel-ifosfamide-carboplatin combination in advanced non-small-cell lung cancer. Oncology 2005;69(4):333-41.
Rentzos M, Nikolaou C, Rombos A, Evangelopoulos ME, Kararizou E, Koutsis G, Zoga M, Dimitrakopoulos A. Effect of treatment with methylprednisolone on the serum levels of IL-12, IL-10 and CCL2 chemokine in patients with multiple sclerosis in relapse. Clin Neurol Neurosurg. 2008; 110 (10): 992-6.
Rentzos M, Rombos A, Nikolaou C, Zoga M, Zouvelou V, Dimitrakopoulos A et all. Interleukin-15 and interleukin-12 are elevated in serum and cerebrospinal fluid of patients with amyotrophic lateral sclerosis. Eur Neurol. 2010;63(5):285-90.