Pantelidou Elianna-Maria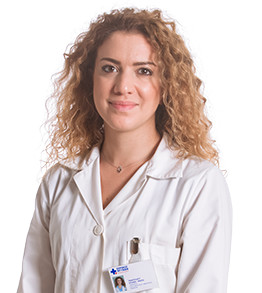 2nd Department of Internal Medicine
Experience
Consultant, 2nd Internal Medicine Department, Henry Dunant Hospital Center, 2017 - present
Clinical Fellow, 2nd Internal Medicine Department, Henry Dunant Hospital Center, 2015 - 2017
Research Fellow. 4th Department of Internal Medicine, University of Athens. Infectious Immunology Clinic. ATTIKON University General Hospital, 2014 - 2015
Research Fellow. 4th Department of Medicine, University of Athens, ATTIKON University General Hospital, 2008 - 2009
Speciality
Residency in Internal Medicine. General Hospital of Eleusis "Thriassio", 1st Department of Internal Medicine,2009-2014
Doctor of Medicine, National and Kapodistrian University of Athens, Faculty of Medicine. Degree: Excellent (8.87/10),2000 - 2006
EXPERTISE AND RESEARCH INTEREST
Doctor of Philosophy (PhD), Internal Medicine Section. National and Kapodistrian University of Athens, Faculty of Medicine. Dissertation: "Pathogenesis of infections by Klebsiella pneumoniae: Comparison of virulence among susceptible and multiresistant strains and effects on antimicrobial treatment". Degree: Excellent, 2015
Retraining
Instructor in Advanced and Basic Support courses of the European Resuscitation Council (ALS, ILS, BLS). Generic Instructor Course. Athens, September 2014
Advanced Life Support Provider Course, European Resuscitation Council. Athens, December 2013
Member of the Hellenic Sepsis Study Group since 2008. Participation in the scientific events and projects of the team.
Recognitions & Awards
Excellence award for best performing graduate, Medical School of Athens,2006
State Scholarships Foundation awards for best performing medical student for the academic years 2000-2001, 2001-2002 and 2003-2004.
Publications
PUBLICATIONS IN INTERNATIONAL JOURNALS
Pantelidou IM, Giamarellos-Bourboulis EJ. Can procalcitonin monitoring reduce the length of antibiotic treatment in bloodstream infections? Int J Antimicrob Agents 2015; 46: S10-2.
Pantelidou IM, Galani I, Georgitsi M, Daikos GL, Giamarellos-Bourboulis EJ. Interactions of Klebsiella pneumoniae with the innate immune system vary in relation to clone and resistance phenotype. Antimicrob Agents Chemother 2015; 59: 7036-7043.
Giamarellos-Bourboulis EJ, Spyridaki A, Savva A, Georgitsi M, Tsaganos T, Mouktaroudi M, Raftogiannis M, Antonopoulou A, Papaziogas V, Baziaka F, Sereti K, Christopoulos P, Marioli A, Kanni T, Maravitsa P, Pantelidou IM, Leventogiannis K, Tsiaoussis P, Lymberopoulou K, Koutelidakis IM. Intravenous paracetamol as an antipyretic and analgesic medication: the significance of drug metabolism. J Pharmacol Sci 2014; 124: 144-152.
Giamarellos-Bourboulis EJ, Tsangaris I, Kanni T, Mouktaroudi M, Pantelidou IM, Adamis G, Atmatzidis S, Chrisofos M, Evangelopoulou V, Frantzeskaki F, Giannopoulos P, Giannikopoulos G, Gialvalis D, Gourgoulis GM, Kotzampassi et al; Hellenic Sepsis Study Group. Procalcitonin as an early indicator of outcome in sepsis: a prospective observational study. J Hosp Infect 2011; 77: 58-63