Maniati Aliki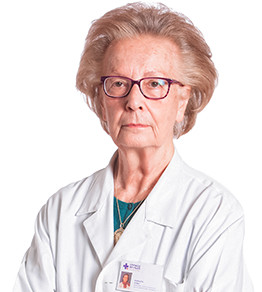 Experience
Director Blood Bank Henry Dunant Hospital Center, 2014 up to now
Director Hematology Division Henry Dunant Hopsital, 2003-2014
Professor of Hematology, Univercity of Patras Medical School 1989-2003
Associate Professor, Columbia Univercity Medical School 1979-1982
Speciality
American Board of Oncology 1975
American Board of Hematology 1972
American Board of Internal Medicine 1972
MD, Univercity of Athens 1960
Recognitions & Awards
Founding member HELLENIC SOCIETY of BLOOD TRANSFUSION 
Chairman Board of Directors NATA (Network for The Advancement of Transfusion Alternatives)
Member American Society of Haematology 
Member Hellenic Society of Haematology 
Publications
More than 100, recent publication attached: 

Books: TRANSFUCION MEDICINE Alternatives To Blood Transfusion In Transfusion Medicine(Wiley-Blackwell 2010)
           TRANSFUCION MEDICINE(Parizianos Publ. 2001)
Integration in groups of donors may modify attitudes towards blood donation.Politou M, Gialeraki A, Valsami S, Nearchakos N, Tsantes A, Travlou A,

 

Maniatis A.Blood Transfus. 2014 Oct 29:1-2. doi: 10.2450/2014.0153-14.
"Real-world" data on the efficacy and safety of lenalidomide and dexamethasone in patients with relapsed/refractory multiple myeloma who were treated according to the standard clinical practice: a study of the Greek Myeloma Study Group.Katodritou E, Vadikolia C, Lalagianni C, Kotsopoulou M, Papageorgiou G, Kyrtsonis MC, Matsouka P, Giannakoulas N, Kyriakou D, Karras G, Anagnostopoulos N, Michali E, Briasoulis E, Hatzimichael E, Spanoudakis E, Zikos P, Tsakiridou A, Tsionos K, Anargyrou K, Symeonidis A,

 

Maniatis A, Terpos E. Ann Hematol. 2014 Jan;93(1):129-39. doi: 10.1007/s00277-013-1841-y. Epub 2013 Jul 28.
Progress in the treatment of myelodysplastic syndromes.

 

Maniatis A.

 

Blood Transfus. 2008 Oct;6(4):180-1. No abstract available. 
The role of intravenous iron in anemia management and transfusion avoidance. Auerbach M, Goodnough LT, Picard D,

 

Maniatis A.Transfusion. 2008 May;48(5):988-1000. doi: 10.1111/j.1537-2995.2007.01633.x. Epub 2008 Mar 12. 
Primary treatment with pulsed melphalan, dexamethasone and thalidomide for elderly symptomatic patients with multiple myeloma. Dimopoulos MA, Anagnostopoulos A, Terpos E, Repoussis P, Zomas A, Katodritou E, Kyrtsonis MC, Delibasi S, Vassou A, Pouli A, Zervas K, Anagnostopoulos N,

 

Maniatis A; Greek Myeloma Study Group. Haematologica. 2006 Feb;91(2):252-4.
Recombinant human erythropoietin therapy in critically ill patients: a dose-response study [ISRCTN48523317].Georgopoulos D, Matamis D, Routsi C, Michalopoulos A, Maggina N, Dimopoulos G, Zakynthinos E, Nakos G, Thomopoulos G, Mandragos K,

 

Maniatis A; Critical Care Clinical Trials Greek Group. Crit Care. 2005 Oct 5;9(5):R508-15. Epub 2005 Aug 5.
Continuous prednisolone versus conventional prednisolone with VMCP-interferon-alpha2b as first-line chemotherapy in elderly patients with multiple myeloma. Ludwig H, Spicka I, Klener P, Greil R, Adam Z, Gisslinger H, Tarkovács G, Linkesch W,

 

Maniatis A, Morant R, Drach J, Kuhn I, Schuster J, Hinke A.Br J Haematol. 2005 Nov;131(3):329-37.
Multiple myeloma in elderly patients: prognostic factors and outcome.Anagnostopoulos A, Gika D, Symeonidis A, Zervas K, Pouli A, Repoussis P, Grigoraki V, Anagnostopoulos N, Economopoulos T,

 

Maniatis A, Dimopoulos MA.Eur J Haematol. 2005 Nov;75(5):370-5.
Type 1 and type 2 cytokine-producing CD4+ and CD8+ T cells in primary antiphospholipid syndrome. Karakantza M, Theodorou GL, Meimaris N, Mouzaki A, John E, Andonopoulos AP,

 

Maniatis A. Ann Hematol. 2004 Nov;83(11):704-11. Epub 2004 Aug 5.
Markers of endothelial and in vivo platelet activation in patients with essential thrombocythemia and polycythemia vera. Karakantza M, Giannakoulas NC, Zikos P, Sakellaropoulos G, Kouraklis A, Aktypi A, Metallinos IC, Theodori E, Zoumbos NC,

 

Maniatis A.
Clinical relevance of balance between type 1 and type 2 immune responses of lymphocyte subpopulations in aplastic anaemia patients. Giannakoulas NC, Karakantza M, Theodorou GL, Pagoni M, Galanopoulos A, Kakagianni T, Kouraklis-Symeonidis A, Matsouka P,

 

Maniatis A, Zoumbos NC.Br J Haematol. 2004 Jan;124(1):97-105.
Adult chronic idiopathic thrombocytopenic purpura (ITP) is the manifestation of a type-1 polarized immune response. Panitsas FP, Theodoropoulou M, Kouraklis A, Karakantza M, Theodorou GL, Zoumbos NC,

 

Maniatis A, Mouzaki A. Blood. 2004 Apr 1;103(7):2645-7. Epub 2003 Dec 11.
In vivo platelet activation in ischemic stroke patients. Karakantza M,

 

Maniatis A, Metallinos CI, Papapetropoulos T, Paschalis C. Stroke. 2003 Oct;34(10):e174-5; author reply e174-5. Epub 2003 Sep 11. No abstract available. 
Expression patterns of Th1 and Th2 cytokine genes in childhood idiopathic thrombocytopenic purpura (ITP) at presentation and their modulation by intravenous immunoglobulin G (IVIg) treatment: their role in prognosis. Mouzaki A, Theodoropoulou M, Gianakopoulos I, Vlaha V, Kyrtsonis MC,

 

Maniatis A. Blood. 2002 Sep 1;100(5):1774-9.