Falagas Matthew
Internist-Infectious Disease Specialist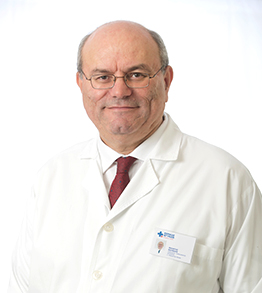 4th Department of Internal Medicine
Experience
Chief, Department of Medicine, Henry Dunant Hospital Center, Athens, Greece
Director, Fourth Division of Internal Medicine; and Director, Office of Research, Henry Dunant Hospital Center, Athens, Greece. (2017 – today.)
Adjunct Associate Professor of Medicine, Tufts University School of Medicine, Boston, Massachusetts (2006 – today)
Adjunct Assistant Professor of Medicine, Tufts University School of Medicine, Boston, Massachusetts (1997 - 2006)
Director, Alfa Institute of Biomedical Sciences (AIBS) (Supervisor of many clinical researchers until today) (2005 – today.)
Director, Department of Internal Medicine and Infectious Diseases, Iaso General Hospital, Iaso Group, Athens, Greece. (2014 - 2017)
Director, Department of Internal Medicine and Infectious Diseases, Mitera Hospital, Hygeia Group, Athens, Greece (2012 - 2014)
Director, Infectious Diseases Clinic, and Director, Employee Health Clinic, Henry Dunant Hospital, Athens, Greece (2003 - 2012)
Staff Physician/Admitting privileges, Hygeia Hospital, Athens, Greece (1997 - 2003)
Speciality
Clinical and Research Fellow in Infectious Diseases and Geographic Medicine, Department of Medicine, Tufts University School of Medicine, New England Medical Center, Boston, Massachusetts (1994 - 1996)
Clinical Fellow in Infectious Diseases and Geographic Medicine, Department of Medicine, Tufts University School of Medicine, New England Medical Center, Boston, Massachusetts (1993 - 1994)
Senior Resident in Internal Medicine, Tufts University School of Medicine, Newton-Wellesley Hospital, Boston, Massachusetts (1992 - 1993)
Intern and Junior Resident in Internal Medicine, State University of New York (SUNY) at Buffalo, School of Medicine and Biomedical Sciences, Buffalo General Hospital, Buffalo, New York (1990 - 1992)
MD, Athens University, School of Medicine (1980 - 1986)
Subspecialty in Infectious DiseasesResearch interest regarding the development of new treatments for infections
Retraining
MSc, Harvard University, Harvard School of Public Health (Epidemiology) (1994 - 1996)
DSc, Athens University, School of Medicine, National Kapodistrian University of Athens (1996 - 1999)
Certified Diplomate in Infectious Diseases by the American Board of Internal Medicine (committee of Infectious Diseases) (1996)
Certified Diplomate in Internal Medicine by the American Board of Internal Medicine (1993)
Medical Licence in Massachusetts (1992)
USA Educational Commission for Foreign Medical Graduates (ECFMG) permanent certificate (1991)
Medical Licence in Greece (1986)
Recognitions & Awards
ESCMID Fellow (European Society of Clinical Microbiology and Infectious Diseases Fellow) (2017)
Award for excellence in research, Greek Society of Emergency and Outpatient Medicine (2016)
Distinction for the study "Readability of health related pamphlets distributed in hospitals and health centers in Athens", 3rd Pan-Hellenic Congress on Health Management, Economics, and Policy (2007)
Maxwell Finland Young Investigator Award for Excellence in Research, Massachusetts Infectious Diseases Society (1997)
Research Award (for the study: Cancer incidence after metronidazole use: a matched metronidazole user/non-user study), Amfiaraion Foundation for the Study of Chemotherapeutic Agents, 23rd Panhellenic Medical Conference, Athens, Greece (1997)
Edward Kass Award for Clinical Excellence, Massachusetts Infectious Diseases Society (1994)
House Staff Award for Excellence in Teaching, The Medical Student Body State University of New York (SUNY) at Buffalo, School of Medicine and Biomedical Sciences, Buffalo, New York (1992 )
House Staff Award for Excellence in Teaching, The Medical Student Body (1992)
Diploma in Medicine with "Excellence" (Top 1% of class), Athens University School of Medicine (1986)
Scholarship, Athens University (1981 contest among candidate students from all Schools and Departments of Athens University)
First Prize, Greek National Mathematics Competition, Greek Association of Mathematicians
Publications
Falagas ME, Rafailidis PI. Pseudomonas and related Gram-negative bacillary infections. In: Goldman L, Schafer A (ed). Goldman-Cecil Medicine. 25th edition. Saunders, Elsevier, Philadelphia, Pennsylvania, 2016, pages 1962-1967.
Falagas ME, Mylonakis E (editors). Gorbach's 5-Minute Infectious Diseases Consult (textbook), 2nd edition. Lippincott, Williams &Wilkins, Philadephia, Pensylvania, 2012.
Falagas ME, Skalidis T, Vardakas KZ, Legakis NJ, Hellenic Cefiderocol Study Group. Activity of cefiderocol (S-649266) against carbapenem-resistant Gram-negative bacteria collected from inpatients in Greek hospitals. J Antimicrob Chemother 2017.
Vardakas KZ, Trigkidis KK, Falagas ME. Fluoroquinolones or macrolides in combination with β-lactams in adult patients hospitalized with community acquired pneumonia: a systematic review and meta-analysis. Clin Microbiol Infect 2017;23:234-241.
Tansarli GS, Skalidis T, Legakis NJ, Falagas ME. Abnormal vaginal flora in symptomatic non-pregnant and pregnant women in a Greek hospital: a prospective study. Eur J Clin Microbiol Infect Dis 2017;36: 227-232.
Vardakas KZ, Theocharis G, Tansarli GS, Rafailidis P, Falagas ME. Impact of oseltamivir use on the reduction of complications in patients with influenza: a prospective study. Arch Virol 2016;161:2511-8.
Falagas ME, Mavroudis AD, Vardakas KZ. The antibiotic pipeline for multi-drug resistant gram negative bacteria: what can we expect? Expert Rev Anti Infect Ther. 2016;14:747-63.
Polyzos KA, Konstantelias AA, Falagas ME. Risk factors for cardiac implantable electronic device infection: a systematic review and meta-analysis. Europace 2015;17:767-77.
Polyzos KA, Konstantelias AA, Pitsa CE, Falagas ME. Maternal influenza vaccination and risk for congenital malformations: A Systematic Review and Meta-analysis. Obstet Gynecol 2015;126:1075-84.
Rajenderan S, Balaji V, Anandan S, Sahni RD, Tansarli GS, Falagas ME. Determination of MIC distribution of arbekacin, cefminox, fosfomycin, biapenem and other antibiotics against gram-negative clinical isolates in South India: a prospective study. PLoS ONE 2014;9:e103253.
Falagas ME, Tansarli GS, Ikawa K, Vardakas KZ. Clinical outcomes with extended or continuous versus short-term intravenous infusion of carbapenems and piperacillin/tazobactam: a systematic review and meta-analysis. Clin Infect Dis 2013;56:272-82.
Maraki S, Samonis G, Karageorgopoulos DE, Mavros MN, Kofteridis D, Falagas ME. In vitro antimicrobial susceptibility to isepamicin of 6296 Enterobacteriaceae clinical isolates collected at a tertiary-care University Hospital in Greece. Antimicrob Agents Chemother 2012;56:3067-73.
Falagas ME, Karageorgopoulos DE. Adjustment of dosing of antimicrobial agents for bodyweight in adults. Lancet 2010;375:248-51.
Falagas ME, Vouloumanou EK, Plessa E, Peppas G, Rafailidis PI. Inaccuracies in dosing drugs with teaspoons-tablespoons. Int J Clin Pract2010;64:1185-9.
Falagas ME, Rafailidis PI, Ioannidou E, Alexiou VG, Matthaiou DK, Karageorgopoulos DE, Kapaskelis A, Nikita D, Michalopoulos A. Colistin therapy for microbiologically documented multidrug-resistant Gram-negative bacterial infections: a retrospective cohort study of 258 patients. Int J Antimicrob Agents 2010;35:194-9.
Falagas ME, Giannopoulou KP, Vardakas KZ, Dimopoulos G, Karageorgopoulos DE. Comparison of antibiotics with placebo for the treatment of acute sinusitis: a meta-analysis of randomized controlled trials. Lancet Infect Dis 2008;8:543-52.
Falagas ME, Siempos II, Vardakas KZ. Linezolid versus a glycopeptide or β-lactam for treatment of Gram-positive bacterial infections: a meta-analysis of randomized controlled trials. Lancet Infect Dis 2008;8:53-66.
Falagas ME Effect of blinded peer review on abstract acceptance. JAMA 2006;296:1230.
Kopterides P, Falagas ME. Potential consequences of the pneumococcal conjugate vaccine. N Engl J Med 2006;355:95.
Falagas ME, Vergidis PI. Diseases that masquerade as infectious cellulitis. Ann Intern Med 2005;142:47-55.